The dimensions are substantial: 60 acres of formal gardens and 750 acres of park, and eight thousand trees.
Great Vine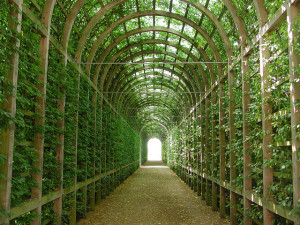 The Great Vine has particular interest. Started from a cutting by Capability Brown in 1769, it has grown to the point where its trunk is 12 foot around and its longest branch measures 120 feet. The vine was started in the first greenhouse of the palace, at one time there were as many as six of these houses, but when it outgrew its housing a new one had to be constructed around it in 1969. The annual yield is about 600 pounds of grapes, the most was 845 pounds in 2001. Since the time of King Edward VII (Victoria's son) they have been sold to the public.
Privy Garden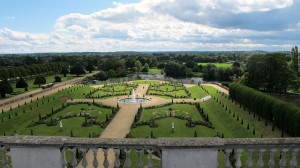 The elaborate patterns of the Privy Garden of William and Mary's time was revealed in the 1995 restoration, and it has now been returned to the status of 1702. Their collection of exotic plants was neglected and allowed to fall by the wayside. Consequent on the 1995 "restoration" of the gardens, some have been replaced in the green houses.
Pond Gardens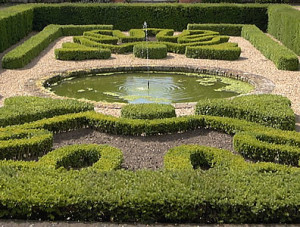 Fridays were fast days on the Christian calendar. For the monks that did not interpret as no food, merely no meat, so a supply of fish was imperative and was generally met by a pond stocked for the purpose. The pools in the Pond Gardens originally served that purpose.
Home Park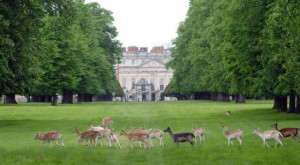 This park comprises 750 acres of what was hunting ground for Wolsey, Henry and subsequent owners of Hampton Court. The 300 fallow deer to be found there are descendants of those in Henry's time when killing the king's deer was a capital offence. There are also to be found parakeets (not known to Wolsey!) and some horses.
At the end of Charles Second's Long Water Canal there is now a five jet Golden Jubilee Fountain placed in 2002 to commemorate Queen Elizabeth the Second's 50 years on the throne.